We combine our love for the outdoors, our passion for quality work, and our creativity to make your dreams a reality.
At Tilson Outdoors, we specialize in both hardscape and landscape installations. We aim to exceed our customers' expectations by taking an individualized approach to each project. We meet with you to develop a plan for your property that maximizes outdoor living space. We combine our love for the outdoors, our passion for quality work, and our creativity to make your dreams a reality.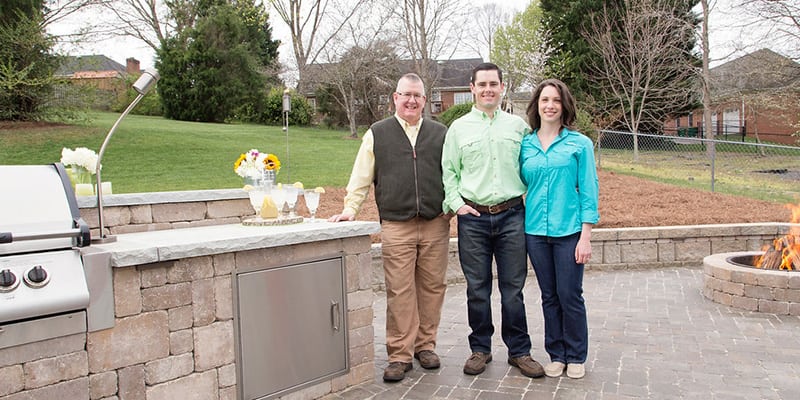 At Tilson Outdoors, we offer an experienced approach, are licensed and insured, and believe in the days of old and the way things "used to be done." In an age of faster and cheaper, we offer quality work and true mastery of craft. At our core, we desire to create an outstanding experience for you both while working with us and when spending time in your new space for years to come. With that in mind, our discerning taste and attention to detail create hardscapes and landscapes that last the test of time.
Our Story
Tilson Outdoors is owned and operated by Richard and Caleb Tilson, the third and fourth generations of a family that devoted their lives to the Green Industry. Bryson Tilson, Richard's grandfather and Caleb's great-grandfather, was said to be able to "grow grass on a doorknob." Bryson served as the Head of Buildings and Grounds at Mars Hill College (now Mars Hill University). He was followed by Leonard Tilson, Richard's father and Caleb's grandfather, who co-founded L.A. Reynolds Landscaping and Garden Center in Winston-Salem, North Carolina.
Richard grew up working at L.A. Reynolds, where he amassed an expansive knowledge of both plants and proven landscape methods. Richard went on to start and operate his own landscaping company, Tri-County Landscaping, where for 22 years he learned and employed many of the techniques and processes Tilson Outdoors uses today. With his combined time at L.A. Reynolds and Tri-County, Richard offers over 30 years of experience in the hardscaping and landscaping industries.
Caleb began his Green career at the ripe age of 12, following Richard around and learning the ins-and-outs of landscaping. After completing his entrepreneurship degree at UNC Greensboro, Caleb joined his father full-time and immersed himself in learning the art of both landscaping and hardscaping. Ten years later, Richard and Caleb started Tilson Outdoors.
Certifications/Accolades
NC Landscape Contractor License Number: CL0870
ICPI (Interlocking Concrete Paver Institute) trained and compliant
Hunter University FX Luminaire Landscape Lighting Design Certified
NC Pesticide License Number: 026-30033
Service to the Boy Scouts of Ardmore Baptist Church Troop 718
At Tilson Outdoors, we proudly serve the Triad and surrounding North Carolina areas, including Winston-Salem, Clemmons, Lewisville, Pfafftown, and Advance.